| | | |
| --- | --- | --- |
| The History of Saint Mark's Episcopal Church | | |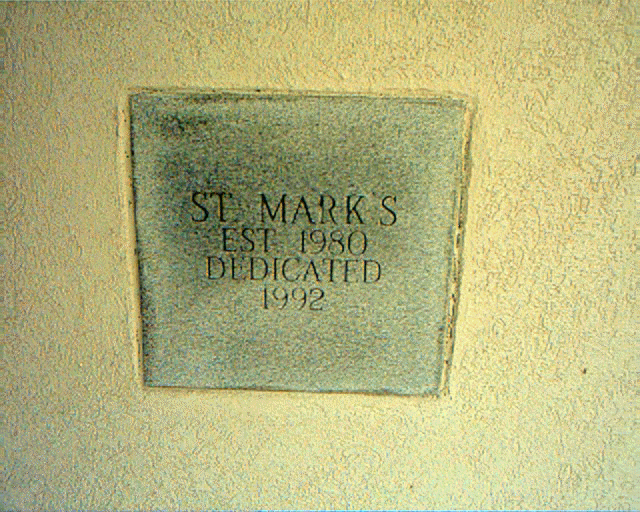 In late 1980, St. Mark's Episcopal Church was established as a "diocesan mission." The church was founded with about 10 families meeting first in a Methodist church and then in a school cafeteria. Within 3 years, 13 acres of choice property facing Murfreesboro Road was purchased and an existing house was rebuilt into a church building. This proved to be too small, and the original facility was expanded to its present size in 1991. In January 2000, St. Mark's became a parish in the Diocese of Tennessee.
Membership has grown slowly but steadily from a small nucleus to our present size of approximately 140. Over the years, the members of St. Mark's have been primarily people moving from other denominations who have found that this special place met their spiritual needs. This blend of backgrounds and traditions has produced a welcoming church in which new members can quickly attain leadership status if they wish. We are a diverse congregation and welcome everyone regardless of creed or background.
Sunday services are at 8:00 a.m. and 10:30 a.m. The 8:00 service is said, and the 10:30 service is led in song by the organ and choir. Services are traditional in following the rubrics of the Book of Common Prayer. A nursery is provided at the 10:30 service. Prayer life at St. Mark's is enhanced by weekly times of Centering Prayer – a form of classical contemplative prayer, and by the Labyrinth. Volunteers built and maintain a permanent, outdoor labyrinth as a gift to the public. It is available for use at all times.
Christian education is important to St. Mark's. Throughout the church school year, from September to May, we offer classes for young people from nursery through high school. Adult education classes meet throughout the year. Special programs are also offered at various times during the year. Education for Ministry (EFM) is a four-year program designed by the University of the South in Sewanee. Group Spiritual Direction is a small group of people getting together once a month to help each other notice the activity of God in their lives. Companions in Christ is a small group experience that builds spiritual practices helping participants open more fully to God and to one another. Inquirer's Class is for adults and youth to increase one's knowledge of the Episcopal Church and/or prepare for Confirmation.
We invite you to join us. You will find a warm and friendly welcome at St. Mark's.
"We at St. Mark's are on a journey seeking God in you, ourselves, and all creation."

Please send your e-mail to...Our Vestry

[Back to the Main Page]